Home » Knowledge Management, Mind Mapping, Wiki
Embedding Mind Maps Into Your Wiki
Late last year I enthusiastically blogged about a new service I created to let you share and embed your mind maps directly into your website. Now that I've wrapped up my personal travel journal, I figured it would be a good time to move onto the next phase of my Personal Knowledge Manager and start actually putting my viewer application to use for myself! After all, this was my original motivation for creating a universal mind map viewer. I needed the ability to embed my mind maps directly into my personal wiki (memex).
With a little bit of tweaking, I managed to take my existing public mindmap viewer service and copy it to my internal wiki. I needed to do this since my personal wiki is on a private/internal network and you can't access it over the public Internet. Since the current mind map viewer service needs to be able to directly download the URL you provide, this wouldn't work for internal URLs (think Intranet).
I've created another MediaWiki plugin that let's you specify a mind map URL (still currently supports Mind Manager), and height & width of the embedded frame. For many of my personal research endeavors, I'll typically create an initial outline using Mind Manager the lets me create a skeleton for consolidating my information. Once I've fleshed out the mind map, I usually write up a summary or paper that helps me crystalize what I've learned. See below:
Regular Wiki Article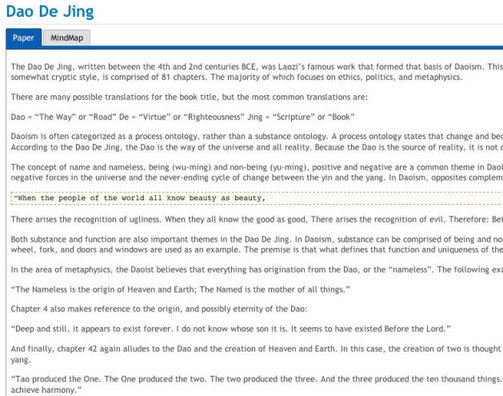 Embedded Mind Map using Flash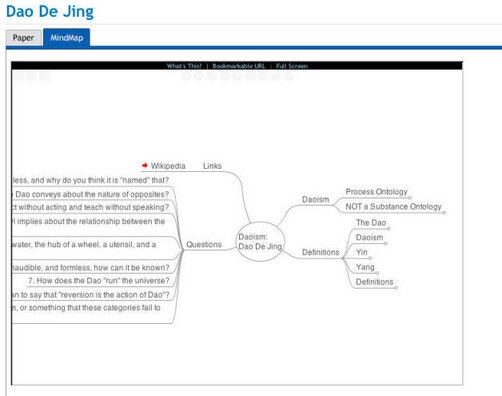 After getting some feedback over the past few months, and now trying this for myself, I've realized there is probably a need for people to utilize this service who have maps solely on an internal network (Intranet) or local hard drive. Many people simply don't want to share their maps online. Yes, I know. This is completely opposite logic to what's driving the latest "Web 2.0″ Mind Mapping application phenomenon.
Over the next few months, I'm planning on porting the existing mind map viewer service to Java and would like to add quite a bit of features. I'm also considering releasing this as open source, so other individuals or companies can embed and share mind maps directly into their existing content management infrastructure. This embedded viewer should be entirely platform agnostic. There should be no reason why this couldn't work in MediaWiki, Confluence, Sharepoint, Alfresco and other content or knowledge management systems.