Home » Featured, InfoViz, Interesting, Knowledge Management, Learning, Mind Mapping, Productivity, Semantic Web, Tips, Visualization
15 Effective Tools for Visual Knowledge Management
Since I started my quest a few years ago searching for the ultimate knowledge management tool, I've discovered a number of interesting applications that help people efficiently organize information. There certainly is no shortage of solutions for this problem domain.  Many tools exist that offer the ability to discover, save, organize, search, and retrieve information.  However, I've noticed a trend in recent years, and some newer applications are focusing more on the visual representation and relationship of knowledge.  I believe this is in part due to the wider adoption of mind mapping (and concept mapping), and leveraging concepts and advances in the semantic web community.
Most traditional personal knowledge management (PKM) or personal information management (PIM) applications offer the same basic set of features:
* Storage of notes and documents
* Search functionality and keyword/tagging capability
* Outline view in a traditional hierarchy, or user-defined views
* Task management, calendar, and contact management (mainly PIM, not KM)
These are essential features, however don't offer too much to the more visually-inclined knowledge junkies. For visual learners and information visualization fans, having a graphical representation of knowledge and seeing how things relate is a must have feature.  Luckily, in the past few years there has been a rise in the number of knowledge management applications that offer this capability.  The following is a list of interesting /unique / effective tools for knowledge management and information visualization (not listed in any particular order):
15. DeepaMehta
Link: http://www.deepamehta.de/
Platforms: Win, Mac, Linux
Cost: Free (Open Source)
DeepaMehta is a "networked semantic desktop" that replaces the traditional computer desktop. DeepaMehta rids the user from dealing with applications, files and directories. Instead, the DeepaMehta user arranges information of any kind and origin into supportive topic maps. Topics may be e.g. projects, emails, webpages, notes, articles, contacts, or meetings. Users define their own topic types. Old-fashioned applications, windows and files are no longer in the sight of the user, but the meaningful relationships between real world topics.
14. Tinderbox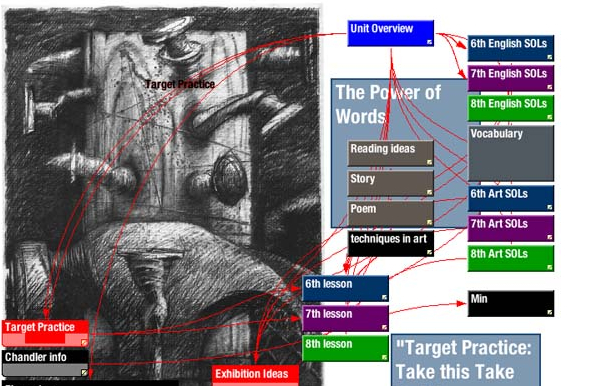 Link: http://www.eastgate.com/Tinderbox/
Platforms: Mac
Cost: $179
Tinderbox stores and organizes your notes, plans, and ideas. It can help you analyze and understand them. And Tinderbox helps you share ideas through Web journals and web logs. Tinderbox maps your notes as you make them. Build relationships by arranging notes, organizing them with shape and color, linking them. Tinderbox lets you record ideas quickly and keep them where you'll find them again when you need them.
13. Vue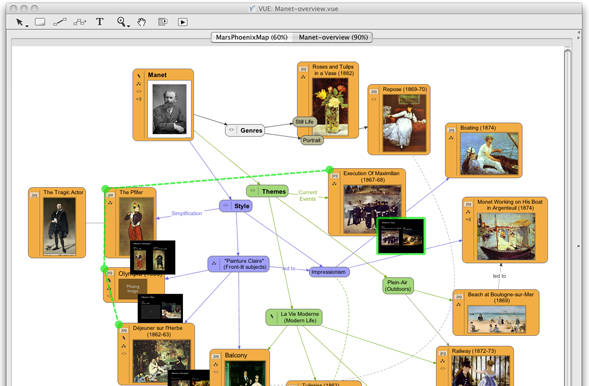 Link: http://vue.tufts.edu/
Platforms: Win, Mac, Linux
Cost: Free (Open Source)
At its core, the Visual Understanding Environment (VUE) is a concept and content mapping application, developed to support teaching, learning and research and for anyone who needs to organize, contextualize, and access digital information. Using a simple set of tools and a basic visual grammar consisting of nodes and links, faculty and students can map relationships between concepts, ideas and digital content.
12. eyePlorer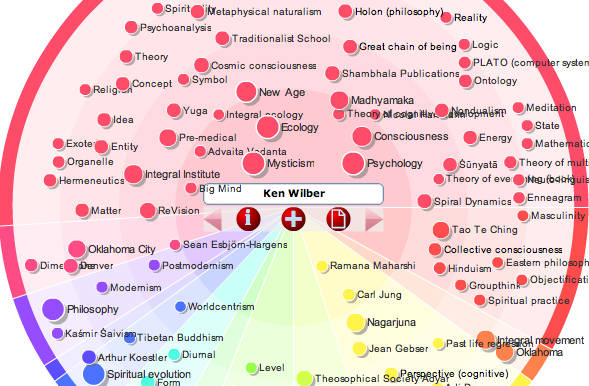 Link: http://www.eyeplorer.com/eyePlorer/
Platforms: Web
Cost: Free
EyePlorer allows you to explore and process knowledge. Search engines help you find links and documents – they require you to follow these links and open the respective document in order to access information. eyePlorer.com, powered by vionto, provides immediate access to facts. It visualizes facts as well as relationships between facts. Furthermore, eyePlorer.com allows you to collect, process and publish interesting bits of information. eyePlorer.com is a visual knowledge workbench.
11. BeeDocs Timeline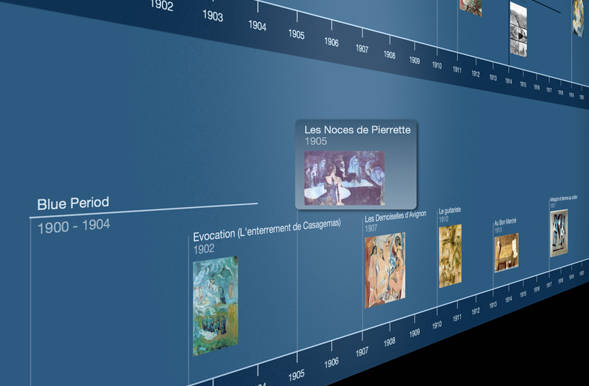 Link: http://www.beedocs.com
Platforms: Mac
Cost: $65
Bee Docs Timeline is software for Mac OS X that makes it easy for you to present historical events in a way that reveals connections and clarifies relationships.

Make timeline charts of world history, family trees, fictional events or business deadlines. Timelines can help you understand and present history with new perspective!

See: http://eric-blue.com/2009/04/14/how-to-create-stunning-3d-timelines/
Post continued, click below to navigate to the next page….