Home » Mind Mapping
Power Tips & Strategies for Mind Mapping Software
I just finished reading Chuck Frey's ebook: Power Tips & Strategies for Mind Mapping Software. From Chuck's ebook website:
"I've made it my mission to gather the best applications, techniques and resources into one place – a definitive guide to getting the most out of mind mapping software in business. I have talked with leading mind mapping experts, and I have conducted surveys to find out what business users of mind mapping software want to know – information that can help you to leverage all of the power that it has to offer."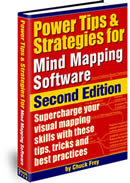 The book gives great tips on problem solving, brainstorming, information organization, decision making, and discusses mind mapping best practices. There's also a section, where Chuck interviews Kyle McFarlin, that's dedicated to using mind maps as personal dashboards (which I just posted about).
Chuck recently posted a quick video giving an overview of the book. Check it out!