How to Synchronize Your Digital Scrapbook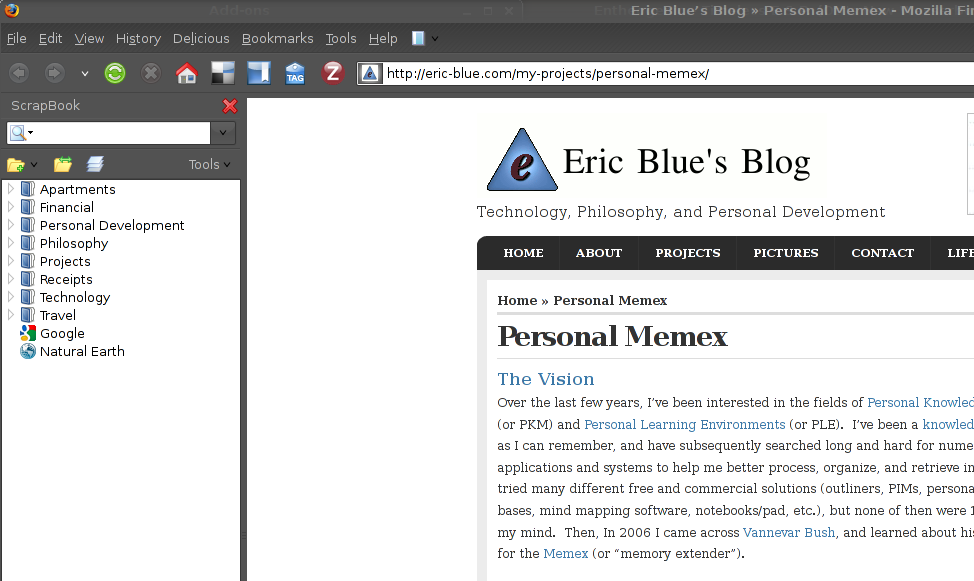 I had originally planned on calling this article 'How to Use Cloud Computing to Synchronize Your Digital Scrapbook For Research and Integrate Into Your Personal Knowledge Management Wiki for Extra Credit', but I figured that would be a bit too much. Luckily I am going to give info on how to do both of these things so stay with me!
Background
For my own personal knowledge management setup, I'm very interested in tracking a number of different 'things':
* Documents – PDFs, word documents, mindmaps, etc.
* Notes – Journal entries, book summaries, personal notes (think wiki text)
* Links – Bookmarks (personal or social sites like del.icio.us)
* Multimedia – Audio / Video
* Snippets – Captured web pages (full or partiallly snipped content)
When I first mentioned my 'Digital Scrapbook', I wasn't dropping any hints about me having any crafty hobbies, I generally refer to my system for storing Snippets as my Scrapbook. This name is no doubt in large part due to the fact that I've been using the popular Firefox plugin ScrapBook to manage my digital snippets for a few years now.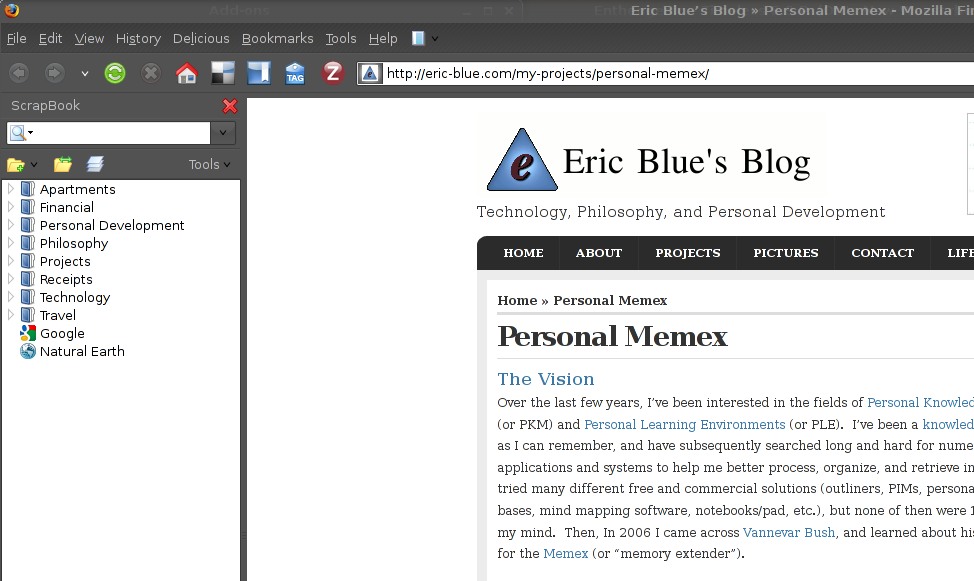 ScrapBook is a fantastic solution for storing local copies of web pages for research (with highlighting, editing, and annotation), saving snips of important sections of sites, recording purchase confirmations or receipts, and saving your travel itineraries. One major thing it has been lacking though is the ability to synchronize or share the Scrapbook with other computers. I use multiple computers (a couple laptops: Mac & Window and a central desktop: Linux) so my goal is to have consistent and up to date data between all systems. And, up until now, I've had no way to integrate this save data into my wiki-based knowledge management system.
I started investigating a solution for this a number of months ago and stumbled across a related (and powerful) research tool called Zotero. I haven't had a chance to use Zotero in depth, but one new feature in the beta version that stuck out to me was the ability to synchronize your data with a remote server. On the surface this feature looks good (and probably is for most people – data sync to Zotero server and webdav support for documents), but I was looking for a solution where I have more control over where the data is hosted. Although I'm usually not concerned with hosting my data with most providers, I often save private financial information in my Scrapbook (credit reports, financial statements, account numbers, etc.) so I'd like to have control over where the data is saved and how it's encrypted. Further research eventually sparked a few ideas for a solution.
Synchronizing and Sharing ScrapBook Data
I decided to find a way to explore a setup using some file sharing/sync services after reading an article on syncing Scrapbook using Dropbox. I had never used Dropbox before and after giving it a brief testdrive it looked very promising. Hey, you get a 2GB account for free so that's definitely an added bonus! Although Dropbox has some killer features (a big one being an iPhone app to access your files), I opted to experiment with another sync service. I've been using JungleDisk for a couple years as my Amazon-S3 backed offsite backup solution, and was curious if this could be used. After downloading the latest version (3.0.2 for Linux) I discovered that it now supports file/directory synchronization between computers. After about 10-15 minutes of setup and file syncing I had a working solution between my laptop and desktop computers. Here's what you'll need to do:
Step 1: Download and install the latest version of the Scrapbook plugin for Firefox on your 1st computer. For a good quick intro/tutorial to Scrapbook, check out this video from Lifehacker.
Step 2: Setup an alternate Scrapbook location that resides outside of your Firefox profile directory (Prefrences -> Organize -> Save data to)
Step 3: Setup your preferred sync solution and use the directory provided in Step 2. I preferred JungleDisk for my setup, but there are other services like Dropbox, Box.net, SugarSync, etc. Check out the Activty Owner wiki for a detailed list of sync services. And, although I haven't personally tried yet, I'm sure there are some other non-hosted open source sync solutions like Unison (cross-platform) that could be used.
Step 4: For your 2nd (or subsequent computers) repeat steps 1 through 3.
Wiki Integration (Extra Credit)
OK, for me this was the icing on the cake. Since my Scrapbook data is now on the same computer as my wiki I thought it would be nifty to somehow integrate directly into some of my wiki pages. I found out that Scrapbook supports the ability to export your Scrapbook hierarchy as a tree in HTML (from Scrapbook Sidebar: Tools -> Output Tree as HTML). Although this isn't completely automatic (yet) this gave me the the content I needed to add to my wiki. Now, since wikis by there very nature dont' typically allow you to embed other HTML pages I needed to find a way to make this work.
Step 1: Setup a directory on your webserver to serve content from your Scrapbook directory (setup in Step 2 above) (e.g. http://yourwebsite/scrapbook). This can either be on the same server as your wiki or another, it doesn't really matter.
Step 2: Verify the output of the directory tree looks good. If you enabled frames, the URL should be something like http://yourwebsite/scrapbook/tree/frame.html.
Step 3: For MediaWiki users there are various ways to directly embed pages in your wiki content. I found that the AnySite extension did the trick for me. Enable the extension, pick a wiki page where you want to display your ScrapBook data and you are set! For example, here is my content:
* Link to [http://wiki:8080/wikifiles/scrapbook/tree/frame.html ScrapBook Tree]
<anyweb mywidth="1024″ myheight="768″>http://wiki:8080/wikifiles/scrapbook/tree/frame.html</anyweb>
[[Category:Documents]]

(Visited 6,120 times, 1 visits today)