Tony Buzan's First USA Tour in a Decade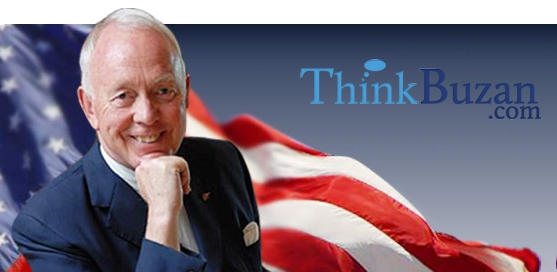 I recently discovered that Tony Buzan, the inventor of Mind Mapping, will be coming to the US next month to host a variety of exclusive talks, training events and accredited courses.  I found out about this tour from Kathleen Church, the Media Relations Liaison for ThinkBuzan, and she informed me that Tony will be conducting these workshops in Minneapolis, San Francisco, and New York from May 3rd to the 18th.    Not only does the content of the workshops look great, but given that this is Tony's first US visit in over a decade this looks like an opportunity worth pursuing.  Here's a brief excerpt from the training page and a copy of the official press release:
British born Tony Buzan has helped millions to unlock their creativity, enhance their memory skills and expand their thought processes. He invented Mind Maps in the 1970s and they are now used by over 250 million people worldwide. He works as a motivational speaker and business consultant for businesses and government organisations all over the world, including General Motors, Walt Disney, BBC, Microsoft, Intel, Boeing, HSBC, Friends of the Earth, Procter and Gamble, and British Airways. In 2008 Tony received the Lifetime Achievement Award from the American Creativity Association (ACA). The Englishman has authored or co-authored over 100 books on the brain, translated into 33 languages and published in over 150 countries.
Tony Buzan Brings His Mind Mapping Technique For Improving Decision Making, Creativity, Communications Skills To U.S.
Best Selling Author, Lecturer, Consultant To Tour US Cities
NEW YORK, NY—APRIL 4, 2010—In a career that has spanned decades, Tony Buzan has helped millions around the world to improve their professional and personal lives by improving decision making, unlocking their creativity and enhancing their memory skills with Mind Mapping techniques.
Now Tony is bringing his program to the United States.
A best selling author and consultant to major international corporations, Tony will host workshops and seminars in New York, Minneapolis and San Francisco May 3 to 18, where he will describe The ThinkBuzan System.
Course attendees will learn how to work creatively, generate innovative new ideas, deliver dynamic and engaging presentations, improve their organisation and planning skills, and enhance their training repertoires with a system that has been developed over 40 years of experience.
Mind Maps, which Tony invented in the 1970s, are now used by over 250 million people worldwide.  He is a consultant for businesses and government organisations all over the world, including IBM, Microsoft, Oracle, Walt Disney, Boeing, BP, HSBC, and the BBC.
The royal families of Bahrain and Liechtenstein and global media personalities and prominent world figures have benefited from using his techniques.
After a presentation by Tony at HSBC's headquarters, Anne Ewing, the bank's Head of Learning & Development ,  said that "he held the audience spellbound as he challenged, confronted and tested our collective assumptions about how adults learn.  His complete mastery of his subject shone through… He is an extraordinary teacher and communicator".
Leon Sadler, vice president for professional services at FICO, described the true power of Tony's process: "I've relied on Mind Maps in my work with the world's premier technical knowledge-based organizations, including Accenture, IBM and now FICO, a leader in analytics and decision management. I have passed on my enthusiasm to my co-workers and kids, and enjoy watching a new generation of Mind Mappers develop."
In 2008 Tony received the Lifetime Achievement Award from the American Creativity Association (ACA).  Forbes Magazine has named Tony one of five top international speakers, along with Mikhail Gorbachev, Henry Kissinger and Margaret Thatcher, and reported that "Buzan shows corporate executives how to hotwire their creative energies."
He has authored or co-authored over 100 books on the brain, which have been translated into 33 languages and published in over 150 countries.  During the US tours, he workshops and seminars will be co-hosted by Chris Griffiths, ThinkBuzan's CEO and author of 'Mind Maps for Business'.
The ThinkBuzan System is built around a number of cutting edge techniques that address key areas such as; working creatively to generate new ideas and innovative solutions, combating information overload, dealing easily with an overwhelming workload, making correct decisions quickly, and thinking strategically and setting goals to boost personal and business development.
Tony's US Tour events are an ideal opportunity for all executives, consultants, trainers and managers, anyone working n education, marketing and PR, or human resources and development to sharpen their professional skills.

FOR MORE INFORMATION ABOUT:
· Tony Buzan: http://www.thinkbuzan.com/uk/company/about/tony-buzan
· ThinkBuzan Ltd: http://www.thinkbuzan.com/uk/company/about
· The ThinkBuzan System & The US Tour: http://www.thinkbuzan.com/uk/services/training/usa2010
(Visited 841 times, 1 visits today)