MindMap Viewer: Share and Embed Mind Manager Maps Today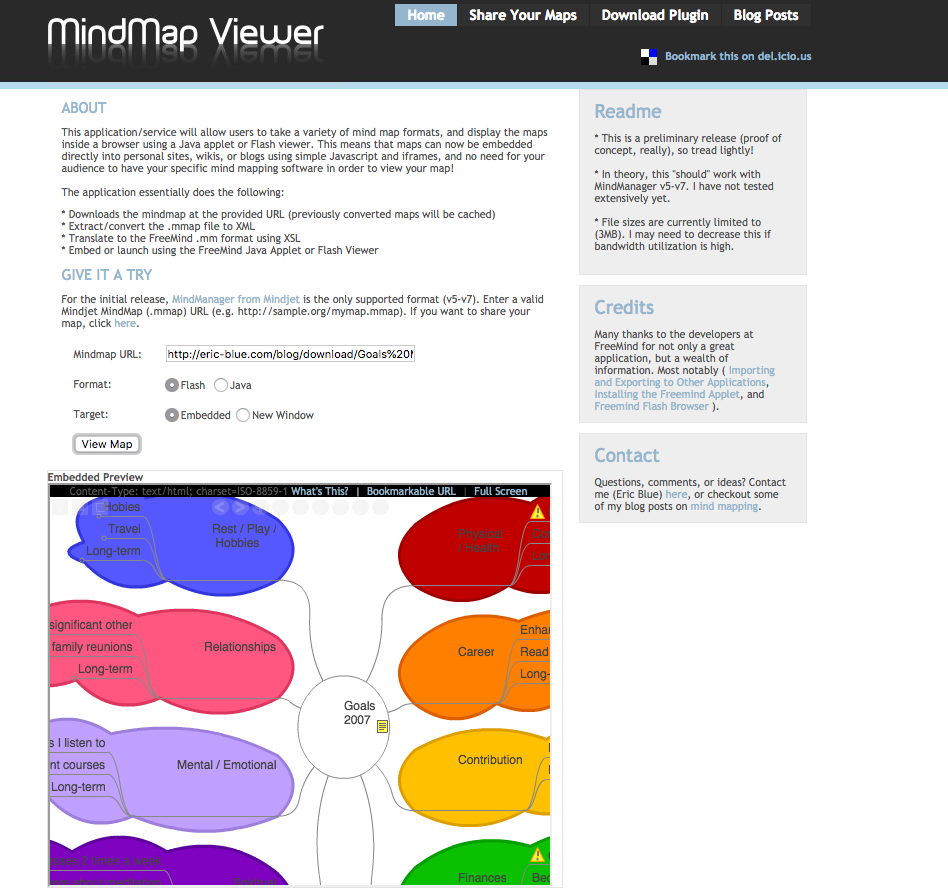 Background
Earlier in the year, I posted about the need for a common mind map file format. With the proliferation of the next-generation mind mapping applications (e.g. MindMeister, Mindomo, etc.), the need to import/export in a standard way and to share mindmaps easily is becoming critical.
As I discussed in my earlier post, I'm a huge fan of commercial mind mapping applications (in particular MindManager). And, I love to share my mind maps with friends and colleagues, however there is a bit of a barrier if those people don't have my specific mind mapping application of choice.
One of the greatest things that the newer web-based mind mapping sites have done is to allow people to easily share their maps, and embed them directly onto their personal sites, wikis, and blogs. Yesterday while researching some sites on knowledge management, I discovered some wikis that support embedding of FreeMind maps using either a Java applet or flash player.
I thought to myself, wow……. I feel really left out. I would *love* to be able to do this myself using my existing MindManager maps. So, I decided to put on my "hacking cap" and wrote an application that allows you to easily convert, embed/share, and view your mind maps. The ultimate goal is have this service become some sort of Universal MindMap Viewer: multiple mind map input types, and multiple outputs (java applet, flash, and other forthcoming visualization frameworks/toolkits). Until the day that we do have a common mindmap format, this type of application will do the trick.
MindMap Viewer
Website: http://eric-blue.com/projects/mindmapviewer/

Screenshot: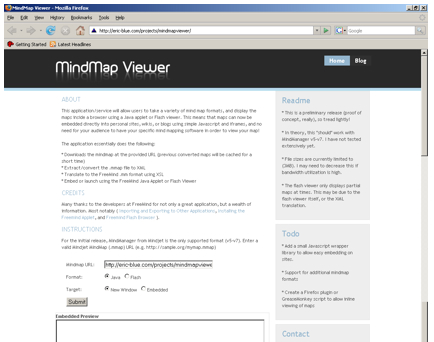 * Downloads the mindmap at the provided URL (previously converted maps will be cached for a short time)
* Extract/convert the .mmap file to XML
* Translate to the FreeMind .mm format using XSL
* Embed or launch using the FreeMind Java Applet or Flash Viewer
Samples
Source: http://eric-blue.com/blog/download/Goals%20Mind%20Map%20Template.mmap
Website: http://eric-blue.com/blog/2007/03/use_mind_maps_to_achieve_your_goals.html
Type: Flash

Roadmap
This is obviously a work in progress, but definitely a great start. The Flash viewer is certainly promising since it's quite a bit faster than the applet, however there are currently some rendering problems with certain nodes. All in all though, this gets the job done. In the next few weeks I plan on adding some enhancements and would greatly appreciate some feedback!
Thanks!
(Visited 5,110 times, 1 visits today)